Home renovation is a significant investment for homeowners, both financially and emotionally. It's a process that involves turning a house into a dream home. However, the renovation industry has its share of challenges, ranging from unscrupulous contractors to disputes over contracts and payments. In response to these issues, CaseTrust has introduced accreditation schemes that aim to elevate the professionalism and ethical standards within the renovation industry. In this article, we will explore the benefits consumers can expect from choosing a CaseTrust-accredited renovation contractor.
CaseTrust Accreditation: A Mark of Excellence
CaseTrust offers two accreditation schemes for renovation businesses, one developed by CaseTrust itself and another in collaboration with the Singapore Renovation Contractors and Material Suppliers Association (RCMA). These schemes are designed to ensure that businesses adhere to strict criteria covering various aspects of their operations, including store policies, advertising ethics, dispute resolution procedures, staff capabilities, and training. Businesses that meet these criteria earn the CaseTrust accreditation, allowing them to proudly display the CaseTrust logo on their shopfronts and marketing materials. This logo signifies their commitment to fair trading and service excellence.
Consumer Benefits of CaseTrust Accreditation
Deposit Guarantees
One of the most significant advantages for consumers dealing with CaseTrust-accredited renovation businesses is the assurance of deposit guarantees. These businesses are required to purchase a deposit performance bond, which acts as a financial safety net for homeowners. This bond safeguards deposit payments against various risks, such as non-performance of contracts, business closure, winding up, or liquidation. This protection provides consumers with peace of mind, knowing that their initial financial investment is secure.
Standard Renovation Contract
Accredited businesses must adopt the CaseTrust Standard Renovation Contract. This standardized contract outlines the obligations of both parties involved, specifying work details, payment schedules, and progressive payments. This transparency ensures that consumers have a clear understanding of the project's scope, pricing, and timelines, reducing the likelihood of disputes or misunderstandings.
Service Warranty
CaseTrust-accredited renovation businesses are obligated to provide homeowners with a workmanship warranty lasting 12 months from the completion date of the project. This warranty ensures that any defects arising from the work during this period will be rectified by the business. This commitment to service quality reinforces consumer confidence in the contractor's work.
Progressive Payment and Transparent Pricing
Consumers can expect a fair and transparent payment process when working with CaseTrust-accredited renovation businesses. Payments are collected in phases, tied to specific project milestones, with initial deposits capped at a maximum of 20% of the total project cost. Pricing breakdowns are clearly displayed, and any additional costs or variations must be agreed upon in writing, promoting financial transparency.
Well-Defined Business Practices
CaseTrust-accredited businesses are required to establish well-defined business practices and systems, including a robust dispute resolution mechanism. In cases where disputes cannot be resolved amicably, the Consumer Association of Singapore (CASE) Centre provides mediation services, ensuring a fair resolution process for both parties.
Protection for Prepayment
To enhance consumer protection, CaseTrust-accredited renovation businesses must safeguard prepayments made by consumers. This protection allows consumers to reclaim any unused prepayment in the event of the business's closure. Consumers receive proof of protection detailing their information and the protected sum, ensuring financial security.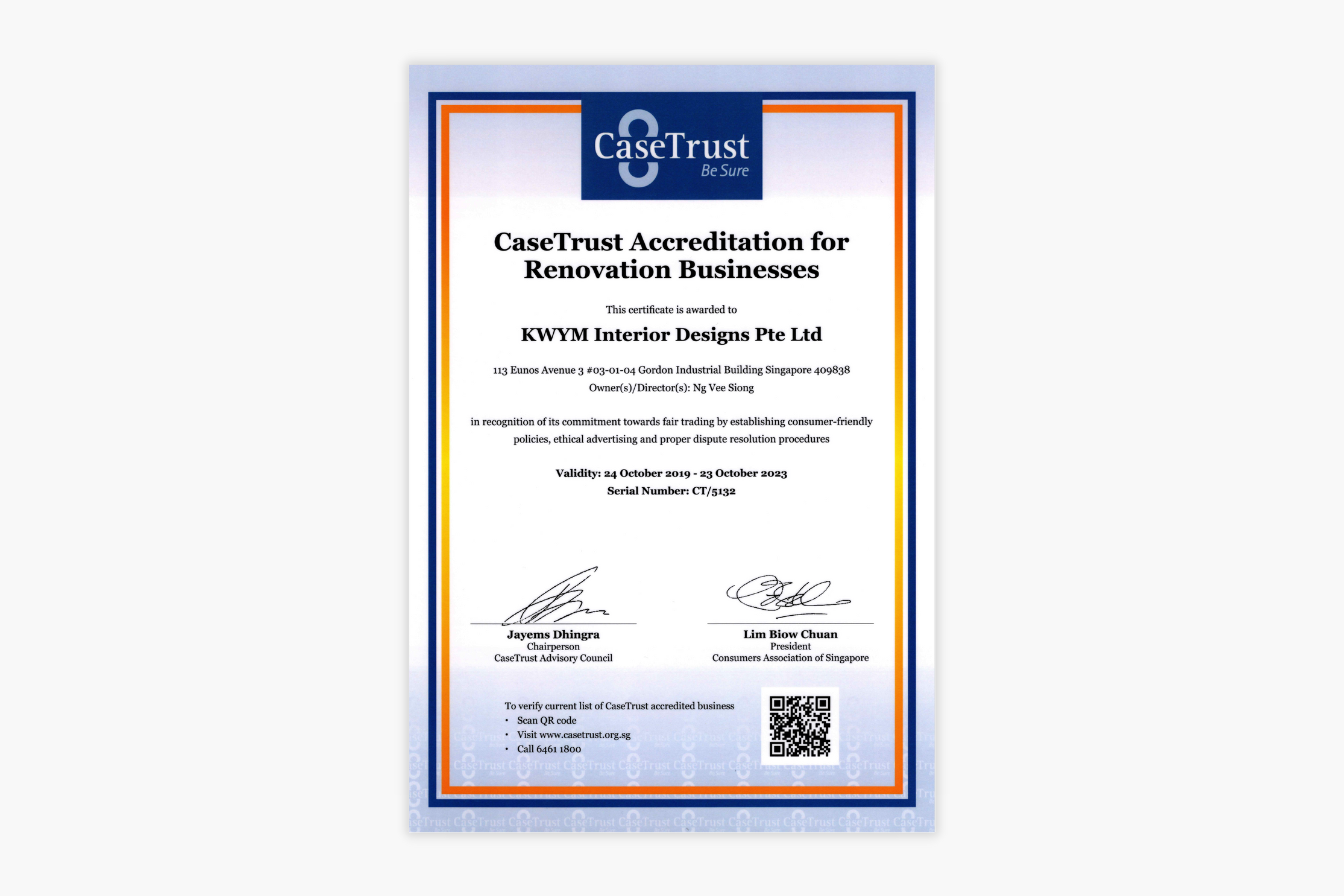 What Does Choosing a CaseTrust Accredited Renovations Business Mean for You?
Confidence in Your Choice
You can have confidence in your decision to hire accredited interior design firms that have undergone rigorous assessments to meet stringent standards of transparency and professionalism.
Assurance of Fair Practices
You can rest assured that these firms uphold fair and ethical practices, ensuring clear communication and transparent pricing throughout your engagement with them.
Dispute Resolution Support
In the rare event of any issues or disagreements, you have access to a structured dispute resolution process facilitated by CASE (Consumers Association of Singapore) and RCMA (RenoChoice Mediation and Arbitration). This ensures a fair and impartial path for addressing concerns.
In a competitive renovation industry, CaseTrust accreditation offers consumers a reliable way to navigate the complexities and potential pitfalls associated with home improvement projects. Choosing a CaseTrust-accredited renovation contractor like KWYM Interior Designs means selecting a partner committed to trust, transparency, and consumer protection. From deposit guarantees to standardized contracts, service warranties, and dispute resolution mechanisms, consumers can expect peace of mind and confidence when working with accredited businesses like us. CaseTrust accreditation not only elevates the professionalism of renovation contractors but also empowers homeowners to embark on their renovation journey with trust and assurance.
KWYM Interior Designs, your CaseTrust Accredited Renovations Partner
When it comes to selecting an Interior Designer in Singapore, KWYM Interior Designs offers compelling reasons and advantages that set us apart. Here are the key factors that make us a reputable choice:
Extensive Experience
With a rich history dating back to 2009, KWYM Interior Designs has accumulated over a decade of experience in the renovation industry. Over this period, we have successfully completed thousands of projects, spanning both residential and commercial sectors. This extensive experience equips us with the knowledge and insights needed to navigate the intricacies of renovation projects.
Client-Centric Approach
Recognizing that each renovation project is unique, and driven by the distinct dreams and aspirations of our clients, KWYM Interior Designs approaches each project with enthusiasm and a steadfast commitment to bringing our clients' visions to life. This personalized approach ensures that the renovation goals remain at the forefront throughout the entire process.
Certifications and Accreditations
CaseTrust Accreditation: KWYM Interior Designs is a CaseTrust-accredited company, demonstrating our dedication to fair trading and transparency in our interactions with clients. This accreditation instills confidence in our integrity and commitment to high standards.
BCA Approval: KWYM Interior Designs holds BCA (Building and Construction Authority) approval as a contractor for Interior Decoration and finishing Works, with an L1 Grading. This recognition underscores our competence and adherence to industry standards.
HDB License: Our HDB (Housing & Development Board) license as a renovation contractor further attests to our capability to handle projects related to public housing in Singapore.
BizSafe Level 3: KWYM Interior Designs has achieved a BIZsafe Level 3 award, indicating our commitment to workplace safety and risk management. This certification ensures a safe environment for both clients and workers.
General Builder License: KWYM Interior Designs has recently been awarded a General Builder Class 2 license. This specialist builder license allows us to undertake various types of construction works, including piling, ground support and stabilization, steel structuring, pre-cast concrete structuring, in-situ post-tensioning, and site investigations. This diversification of capabilities demonstrates our commitment to delivering a wide range of construction services.
By opting for a direct contractor like KWYM Interior Designs, you gain several advantages, including streamlined communication and cost efficiency. Our in-house workshop and direct workshop rates provide the opportunity to realize your renovation vision with precision and within your budget. Our personalized approach, specialized licensing, impeccable reputation, and commitment to your timeline and budget make us a top choice for transforming your space according to your exact desires and requirements.