We are over the moon to announce that we have been included as one of the top 15 interior design firms in Singapore by BestInSingapore. This has been a result of the hard work, dedication, and real relationships we've built with our clients and have been recognised as "best in class" in our sector in Singapore.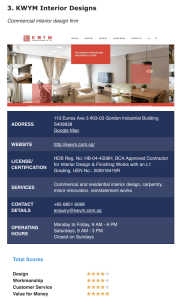 "It is a great honor for us to receive this accolade whilst being in the midst of the pandemic for recognition of our work and tireless efforts to grow the business," said Lionel Ng, Managing Director at KWYM. "This would not be possible without the support of our exceptional team."
About BestinSingapore.co
BestinSingapore.co is a website that provides reviews and recommendations for various products and services in Singapore. It covers a wide range of categories, including home appliances, electronics, beauty, fashion, food, and travel. The website aims to provide useful information to Singaporean consumers and help them make informed decisions when purchasing products or services. The reviews and recommendations on BestinSingapore.co are written by a team of experienced writers and researchers who conduct thorough research and testing to provide accurate and reliable information. The website also offers guides and tips on various topics to help consumers navigate different aspects of life in Singapore.