Why You Should Choose an HDB Licensed Contractor
When embarking on a home renovation or construction project in Housing and Development Board (HDB) flats in Singapore, the choice of your contractor plays a pivotal role in ensuring the success and legality of your endeavor. Opting for an HDB-licensed contractor offers a range of significant advantages, making it a highly recommended option for anyone looking to enhance their living space in an HDB flat.
In this guide, we will explore the compelling reasons to choose an HDB-licensed contractor, shedding light on the benefits that come with this informed decision. Whether you're considering a simple revamp or a more extensive transformation, understanding the value of an HDB-licensed contractor is crucial for a seamless and stress-free project. Here are some reasons to opt for an HDB-licensed contractor:
Expertise in HDB Regulations: HDB licensed contractors are well-versed in the specific regulations and guidelines set by the HDB for public housing in Singapore. They understand the intricacies of these rules and ensure that the project complies with them.
Quality Assurance: HDB licenses contractors based on their capabilities and track record. By hiring a licensed contractor, it is more likely to receive high-quality workmanship and materials, as they are held to certain standards of quality and professionalism.
Risk Mitigation: Hiring an unlicensed contractor can lead to legal issues, subpar work, or project delays. An HDB-licensed contractor offers peace of mind, knowing that they are accountable and insured for their work.
Project Management: HDB licensed contractors often have experience working with the HDB, and they can help navigate the necessary permits and approvals required for a project, saving time and effort.
Warranty and Guarantees: Many HDB licensed contractors offer warranties and guarantees for their work. This provides added protection and reassurance for homeowners.
Resale Value: A renovation or construction project led by an HDB-licensed contractor is more likely to enhance the resale value of your property. It ensures that the work is done to professional standards, which can be an important factor for prospective buyers.
Professionalism: Licensed contractors are more likely to maintain professionalism and adhere to timelines, ensuring that the project is completed efficiently and on schedule.
Accountability: HDB licensed contractors are accountable for their actions. In the event of disputes or issues, there is an avenue for recourse through the HDB's regulatory framework.
Supporting Local Economy: Hiring an HDB-licensed contractor is supporting local businesses and professionals, contributing to the Singaporean economy.
Choosing an HDB-licensed contractor in Singapore is a prudent decision for homeowners looking to undertake projects in HDB flats. It helps ensure that the work is done professionally, in compliance with regulations, and with the necessary warranties and protections in place.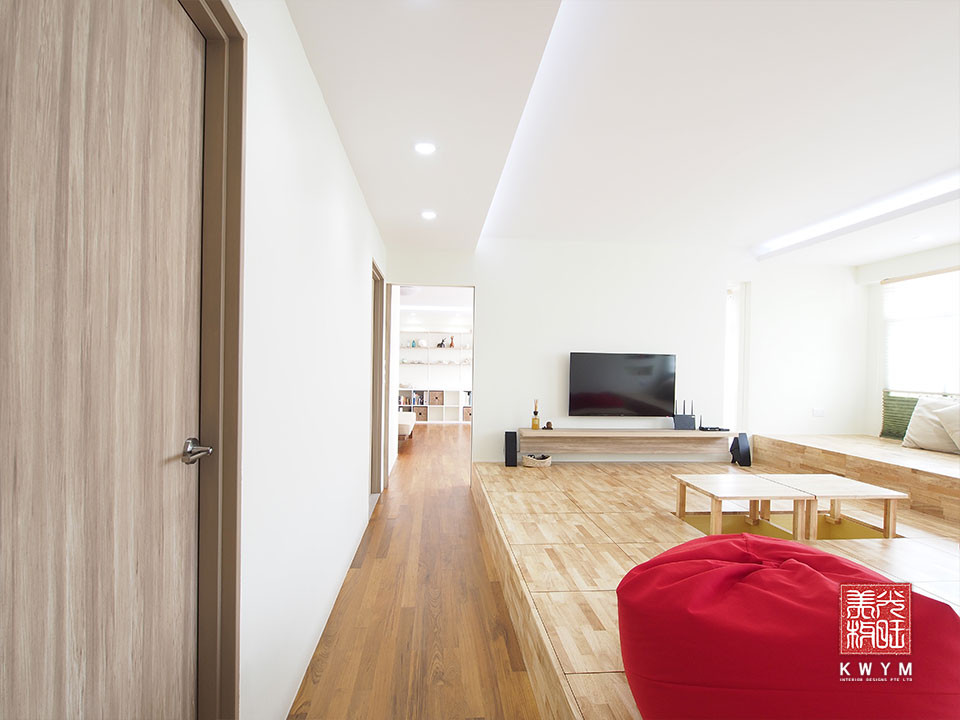 Is HDB Licensing Essential for Contractors?
In brief, the answer is a resounding yes.
Choosing a home renovation contractor in Singapore who possesses all the necessary licenses will yield several crucial advantages that are otherwise unattainable.
HDB-licensed contractors must undergo specialized training and certification processes that familiarize them with the Housing and Development Board protocols pertaining to property enhancements. In essence, these are the only professionals who can guarantee 100% compliance. Flat owners can modify certain aspects of their property, but they cannot alter others. Moreover, specific types of renovation work will necessitate obtaining an HDB permit. Flat owners cannot embark on substantial structural changes without securing approval from the HDB.
Non-compliance with HDB requirements can jeopardize the structural integrity of the construction project. Furthermore, there may be incurred substantial fines for making alterations to the property that are deemed impermissible.
However, the absence of HDB licensing doesn't necessarily equate to poor quality work. Many contractors and interior design teams can deliver excellent results without official certification from the Housing and Development Board.
Nevertheless, partnering with such a team carries inherent risks. Structural damage to units and adjacent ones can occur if the contractors are unaware of permissible modifications. In the event of structural damage, there is a compromise to the construction's integrity and needless inflation to the renovation costs. Rectifying construction errors invariably leads to additional expenses, and the flat owner would be solely responsible for covering these unforeseen charges.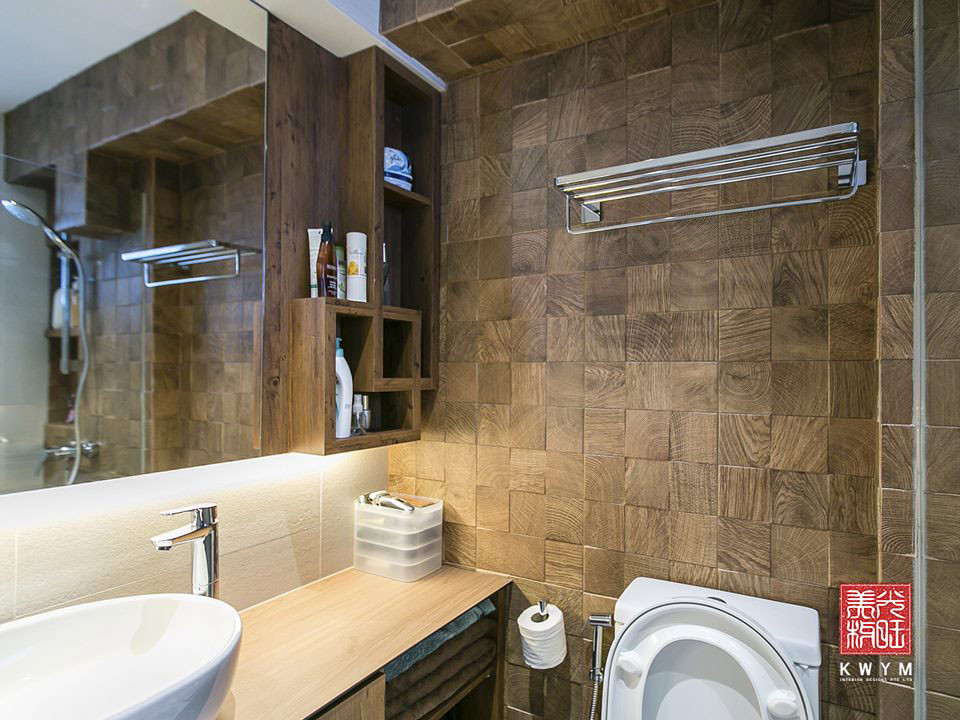 Identifying the Right HDB Licensed Contractor
Now that there is a comprehension of the significance of HDB licensing, let's explore how to find the ideal team for a project.
To begin with, HDB maintains an extensive database of all the companies and service providers that have completed the licensing process. Access to this information can be found here.
Nonetheless, a database is fairly impersonal and offers limited insights into the professionals' backgrounds, experience, and stylistic strengths. These additional factors require one's own research.
While the HDB database is a valuable reference when having some recommendations in mind, starting independent research there can be overwhelming due to its extensive nature.
HDB provides additional resources that can assist in selecting the right professionals for a renovation project.
As seasoned renovation professionals with decades of experience in the field, we believe that a few criteria hold more weight than others. Firstly, consider the number of years a company has been in operation. Second, assess the team's reputation and overall customer satisfaction, which can be gauged by perusing online reviews or soliciting referrals. Lastly, examine the company's portfolio. A robust portfolio should showcase an adequate number of projects that align stylistically with the vision.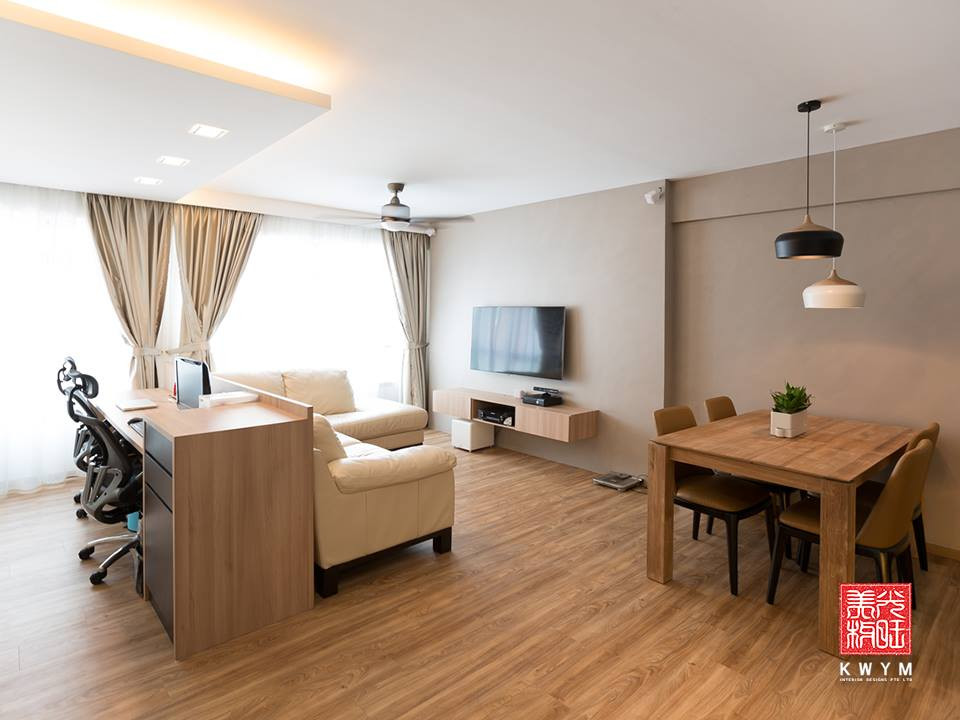 Why Choose KWYM Interior Designs For Your HDB Home Renovation
When it comes to selecting an HDB Home Renovation contractor in Singapore, KWYM Interior Designs offers compelling reasons and advantages. Here are the key factors that make us a reputable choice:
Extensive Experience
KWYM Interior Designs has a rich history dating back to 2009, accumulating over a decade of experience in the renovation industry. Over this period, they have successfully completed thousands of projects, spanning both residential and commercial sectors. This extensive experience equips them with the knowledge and insights needed to navigate the intricacies of renovation projects.
Client-Centric
Approach Recognizing that each renovation project is unique, and driven by the distinct dreams and aspirations of our clients, KWYM Interior Designs approaches each project with enthusiasm and a steadfast commitment to bringing our clients' visions to life. This personalized approach ensures that the renovation goals remain at the forefront throughout the entire process.
Certifications and Accreditations
CaseTrust Accreditation: KWYM Interior Designs is a CaseTrust-accredited renovations company, demonstrating our dedication to fair trading and transparency in our interactions with clients. This accreditation instills confidence in our integrity and commitment to high standards.
BCA Approval: KWYM Interior Designs holds BCA (Building and Construction Authority) approval as a contractor for Interior Decoration & Finishing Works, with an L1 Grading. This recognition underscores our competence and adherence to industry standards.
HDB License: Our HDB (Housing & Development Board) license as a renovation contractor further attests to Our capability to handle projects related to public housing in Singapore.
BizSafe Level 3: KWYM Interior Designs has achieved a BIZsafe Level 3 award, indicating our commitment to workplace safety and risk management. This certification ensures a safe environment for both clients and workers.
General Builder License: KWYM Interior Designs has recently been awarded a General Builder Class 2 license. This specialist builder license allows us to undertake various types of construction works, including piling, ground support and stabilization, steel structuring, pre-cast concrete structuring, in-situ post-tensioning, and site investigations. This diversification of capabilities demonstrates our commitment to delivering a wide range of construction services.
By opting for a direct contractor like KWYM Interior Designs, you gain several advantages, including streamlined communication and cost efficiency. Our in-house workshop and direct workshop rates provide the opportunity to realize your renovation vision with precision and within your budget. Taking the direct route with an HDB Home Renovation contractor like KWYM Interior Designs is a rewarding and efficient choice. Our personalized approach, specialized licensing, impeccable reputation, and commitment to your timeline and budget make us a top choice for transforming your space according to your exact desires and requirements.