In your journey as a homeowner, contemplating home renovations to align with your personal preferences and comfort is a common consideration. When seeking renovation contractors, you can utilize HDB's e-Service to explore options from the Directory of Renovation Contractors (DRC) or identify a BCA Approved Window Contractor. The contractors listed in the DRC are familiar with HDB's requirements, prioritizing the protection of the building's structural integrity. It's important to note that HDB neither endorses nor guarantees the quality of their work.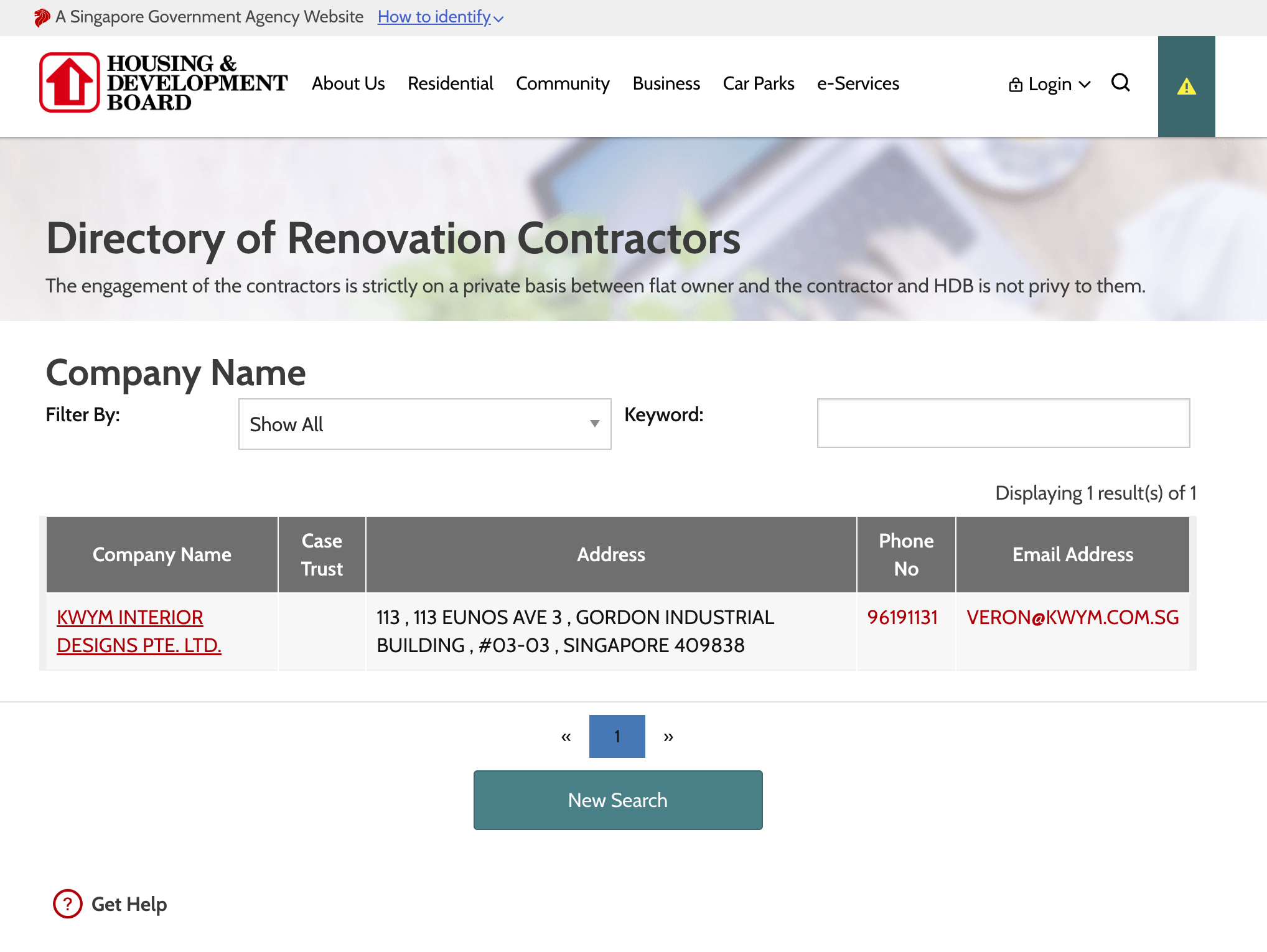 Engaging these contractors entails a private contract between you and the chosen professionals, with HDB not involved in the arrangement. The contractors bear full responsibility for fulfilling contractual obligations, including the quality of their work. In the event of disagreements regarding pricing, schedules, or work quality, it is incumbent upon both parties to resolve the matter privately. If an amicable resolution proves challenging, seeking assistance through organizations like CASE, Singapore Mediation Centre, or the Small Claims Tribunal is recommended. Alternatively, legal recourse through court proceedings is also an option.
For valuable tips on selecting a contractor, you can consult CASE's Consumer Guides and refer to CCCS' Fair Trading Practices. These resources offer insights to help navigate the process of finding a reputable contractor for your renovation needs.
Consider these crucial points when planning your renovations:
Responsibilities of Flat Owners
Renovation Contractor Selection
When selecting a contractor for your renovation, it is imperative to exclusively opt for professionals listed in the Directory of Renovation Contractors (DRC). This stringent selection criterion applies to all renovation tasks, irrespective of whether they necessitate prior approval from the Housing and Development Board (HDB). Engaging contractors solely from the DRC ensures a standard of competence and adherence to guidelines, contributing to the overall quality and compliance of the renovation work. This practice not only aligns with HDB regulations but also serves as a proactive measure to uphold the integrity and safety of the renovation process within HDB flats.
Demolition and Hacking
Before initiating demolition or hacking activities within your HDB flat, it is crucial to secure prior written approval from the Housing and Development Board (HDB). This procedural step is essential to guarantee that such actions do not compromise the structural integrity of the building or jeopardize public safety. Unauthorized demolition or hacking poses significant risks to both your household and neighboring residents. By adhering to the requirement of obtaining written approval from HDB, you not only comply with regulatory protocols but also contribute to maintaining a secure and safe living environment for yourself and those around you.
Approval Compliance
It is imperative to instruct workers exclusively for demolition or hacking activities that have received prior approval from the Housing and Development Board (HDB). Strict adherence to the approved renovation timings is equally vital to prevent any disturbance or inconvenience to neighbors. By ensuring that all workers follow the sanctioned demolition or hacking plans and adhere to the stipulated renovation hours, you contribute to a harmonious living environment within your community. This proactive approach not only aligns with HDB guidelines but also reflects a commitment to responsible and considerate renovation practices.
Legal Consequences
Failure to engage contractors exclusively from the Directory of Renovation Contractors (DRC) or violating the regulations outlined in the Housing and Development (Renovation Control) Rules can have severe legal consequences. This includes the potential for prosecution, particularly in cases involving unauthorized demolition or hacking activities. Adhering to these rules is a legal obligation and a critical step to ensure the safety, structural integrity, and overall compliance of renovation work within HDB flats. Choosing DRC contractors and abiding by established guidelines serves as a protective measure against legal repercussions and upholds the standards set by HDB for responsible renovation practices.
Responsibilities of Flat Owners
As a flat owner, it is paramount to assume responsibility for ensuring that any renovations conducted within your property align meticulously with the guidelines set forth by the Housing and Development Board (HDB). Engaging only contractors listed in the Directory of Renovation Contractors (DRC) is a critical aspect of this responsibility, as it ensures adherence to established standards and regulations. Failure to comply with these guidelines may result in serious consequences, including fines of up to $5,000 and additional penalties. By diligently overseeing the renovation process and strictly adhering to HDB regulations, flat owners play a pivotal role in maintaining the integrity, safety, and compliance of their living spaces within the broader community.
Offenses and Penalties
In the realm of offenses and penalties, flat owners risk fines for failing to engage a Directory of Renovation Contractors (DRC) contractor or violating Housing and Development Board (HDB) rules. For DRC contractors, penalties are incurred for breaching HDB's regulations. On the other hand, conducting renovations as a non-DRC contractor is considered an offense, emphasizing the importance of strict adherence to HDB guidelines for all parties involved in the renovation process.
Timings for Renovations
When planning renovations, it is essential to maintain open communication with neighbors by providing them with advance notice at least 5 days before the commencement of the project, especially those residing within a 2-unit radius. To ensure a harmonious living environment, any Do-It-Yourself (DIY) work generating noise should be confined to the hours between 7:00 am and 10:30 pm. Additionally, it is crucial to use only approved tools and adhere to the specified timeframes for completing tasks. These considerations contribute to a considerate and neighbor-friendly renovation process, promoting understanding and minimizing potential disruptions within the community.
Use of Tools and Pre-packed Material
In the utilization of tools and materials during renovations, it is imperative to adhere to guidelines that emphasize precision and cleanliness. Renovation contractors should limit the use of tools to a maximum of two approved handheld power tools simultaneously. Furthermore, for floor finishes, the adoption of pre-packed screed is recommended, while pre-packed plaster is advised for wall finishes. This approach not only ensures efficiency in the renovation process but also promotes a cleaner and more streamlined execution of the work, contributing to the overall quality and compliance of the project.
Completion of Renovation Work
Efficient completion of planned renovations is crucial, with a timeframe stipulation of 1 month for existing blocks and 3 months for newly completed blocks. It is essential to adhere to these deadlines to ensure a timely and organized renovation process. Upon completing the renovations, flat owners should promptly notify the managing Housing and Development Board (HDB) Branch. This notification is not only a procedural requirement but also contributes to effective communication and coordination between the residents and HDB, facilitating a smoother conclusion to the renovation project.
Dispute Resolution
Open and transparent communication is key when resolving disputes during the renovation process. Engaging in discussions with the contractor about pricing, schedules, and work quality is a crucial initial step to address concerns. In the event of dissatisfaction or unresolved issues, seeking assistance from consumer advocacy organizations such as the Consumers Association of Singapore (CASE) or the Small Claims Tribunals can provide a fair and impartial platform for resolution. If necessary, legal remedies are available, emphasizing the importance of a proactive and informed approach to dispute resolution in the context of home renovations.
Disallowed Renovation Work
Here are instances of prohibited renovation activities according to HDB regulations. Some may necessitate HDB permits, and it's crucial to familiarize yourself with the guidelines before commencing any renovation:
General Examples of Disallowed Renovation Works
Overloading structures, jeopardizing building integrity and safety.
Altering external building facade or compromising public safety.
Creating public nuisance, fire hazards, or intrusions into public space.
Violating lease agreements, statutory regulations, or requirements.
Additionally, consult My HDBPage for specific renovation guidelines applicable to your flat.
Examples of Disallowed Building Works
Hacking or removing structural members like reinforced concrete walls, columns, beams, slabs, and staircases.
Excessive overloading of floor slabs beyond 150kg per square meter.
Plastering ceilings.
Partitioning with combustible or toxic emission materials.
Raising floor levels beyond the allowed thickness of 50mm.
Extending floor area by covering void spaces.
Repositioning or enlarging chute openings.
Painting external parts of the building.
Installing awnings or fixtures outside the flat.
Laying floor finishes outside entrance doors without a designated recess area.
Removing pitched roof ceilings at the topmost floor unit.
Changing the use of a planter box.
Examples of Disallowed Sanitary and Plumbing/Gas Works
Constructing water tanks in bathrooms other than using ready-made options.
Examples of Disallowed Window/Door/Grilles Works
Installing casement windows facing common corridors.
Replacing or tampering with safety railings/grilles provided by HDB or developers.
Enclosing planter boxes with solid metal external grilles.
Installing overhead grilles (caging up) at interaction balconies.
Relocating sliding doors at balconies where window installation is prohibited.
Placing reflective film over windows, exceeding 20% daylight reflectance.
Examples of Disallowed Air-Conditioner Installation Works
Enclosing air-conditioner ledges.
Changing the use of air-conditioner ledges.
Examples of Disallowed Works for Open Terrace at Loft Units and Open Balconies:
Partial or total enclosure.
Adherence to these guidelines is essential to ensure a smooth and legally compliant renovation process.
Choosing KWYM Interior Designs for your HDB Renovation
Choose KWYM Interior Designs for a personalized and tailored home renovation experience. Unlike one-size-fits-all packages, we prioritize your unique vision and needs. With over a decade of experience since 2009, we have successfully completed numerous projects in residential and commercial spaces, providing valuable insights and expertise for intricate renovations.
Why choose us?
Unmatched Customization: Craft a design and renovation plan uniquely tailored to your preferences and needs without limitations imposed by predefined packages.
Quality Assurance: Handpick top-quality materials and engage skilled craftsmen for a superior and durable outcome.
Transparent Costing: Our transparent pricing model ensures clear understanding, empowering you to make informed decisions without hidden charges.
Flexibility and Collaboration: Prioritize open communication and collaboration, accommodating your evolving preferences without rigid constraints.
Diverse Options: Explore a myriad of choices without being confined to specific suppliers, aligning perfectly with your vision.
Certifications and Accreditations:
CaseTrust Accreditation: Upholding fair trading and transparency, instilling confidence in our integrity and high standards.
BCA Approval: L1 Grading accreditation by the Building and Construction Authority, showcasing competence and adherence to industry standards.
HDB License: Renovation contractor license from the Housing & Development Board, testifying to our capability to manage projects associated with public housing in Singapore.
BizSafe Level 3: Ensuring workplace safety and risk management, creating a secure environment for both clients and workers.
General Builder License: Class 2 license highlighting diversified capabilities in various construction works, emphasizing our dedication to delivering a wide range of construction services.
At KWYM Interior Designs, we are committed to empowering you to create a space that is both aesthetically stunning and perfectly functional, reflective of your personality. Your home is more than just a project – it's your sanctuary, and our commitment is to make it everything you dream of, without the limitations that packaged deals often bring.