Undertaking a home renovation project represents a significant financial commitment. To safeguard your investment and ensure the project's success, it's imperative to select a trustworthy contractor. Regrettably, like many other regions, Singapore has witnessed a surge in home renovation scams. In this article, we aim to illuminate the prevalent scams, identify red flags, and equip you with the knowledge to shield yourself from these deceitful practices.
Home Renovation Scams in Singapore
Singapore has experienced a notable surge in home renovation scams, as evidenced by the 50% increase in complaints filed with CASE in 2021, totaling 1,300 grievances against renovation contractors. Singapore has witnessed a disturbing trend of renovation scams that have left many individuals and families in distress. These fraudulent activities manifest in various ways:
2022: A renovation contractor was sentenced to 32 months in jail for deceiving 40 victims, siphoning over $160,000. The modus operandi involved collecting deposits from customers but subsequently failing to initiate or complete the renovation projects.
2021: A group of renovation contractors was apprehended for impersonating HDB and town council officials. They preyed on elderly residents, coercing them into making deposits for repair works that were never carried out.
2020: In a distressing case, a couple found themselves stranded with a partially renovated flat and a staggering debt exceeding $100,000 after their renovation contractor abandoned the project.
You can also review the current roster of contractors who have complaints registered against them on the CASE website.
The repercussions of renovation scams can be immensely burdensome, both financially and emotionally. Victims often grapple with substantial financial losses, leading some to the brink of bankruptcy. These cases underscore the pressing need for vigilance and due diligence when engaging in renovation projects to safeguard against such fraudulent practices.
Common Home Renovation Scams in Singapore
Here are some common scams lodged against renovation contractors in Singapore:
The Phantom Contractor
In this scenario, homeowners hire a contractor who appears reputable but later disappears without completing the project or after performing subpar work.
Red Flags: Lack of a physical office, no local address, or a reluctance to provide identification documents.
Protection: Always verify the contractor's credentials, check online reviews, and ask for referrals from previous clients. Check out firsthand by visiting their carpentry workshop in person.
Unrealistic Low Quotes
Some contractors offer unbelievably low quotes to win projects and later demand additional payments for various reasons, such as unexpected issues or material upgrades.
Red Flags: Quotes that are significantly lower than competitors, vague or unsigned contracts, and inconsistent pricing changes during the project.
Protection: Get multiple quotes, scrutinize contracts thoroughly, and ensure everything is detailed in writing before commencing work.
The Material Substitution
Contractors may substitute high-quality materials specified in the contract with cheaper alternatives, compromising the project's quality. Scammers may use substandard materials or cut corners on the workmanship. This can lead to problems such as leaks, cracks, and poor workmanship.
Red Flags: Contractors unwilling to provide material specifications or using unfamiliar or substandard brands.
Protection: Clearly outline materials in the contract, request receipts for purchased materials, and conduct regular site inspections.
Downpayment Demands
Some contractors ask for a substantial downpayment upfront, promising to begin work promptly but never return after receiving the money. Scammers may ask for a large upfront deposit, often 50% or more of the total cost of the renovation project. Once they have received the deposit, they may disappear or start cutting corners on the work.
Red Flags: High initial payment requests exceeding industry standards, pressure to pay immediately, or reluctance to provide a receipt.
Protection: Follow industry standards for downpayments (usually 20-30%), request a detailed payment schedule, and never pay in full upfront.
Fake Licensing
Fraudulent contractors may present fake licenses, accreditations, or certifications to appear legitimate.
Red Flags: Verify licenses and certifications through official channels, check for inconsistencies in documentation, and consult relevant authorities.
Unfinished Projects
Contractors may abandon projects midway, leaving homeowners with incomplete renovations and no recourse. Scammers may disappear after receiving payment, leaving the homeowner with an unfinished project.
Red Flags: Delays without valid reasons, frequent changes in project schedules, or contractors unwilling to address concerns.
Protection: Establish clear timelines in the contract, document all project stages, and have a penalty clause for delays.
Payment Escalation
Some contractors escalate costs throughout the project, citing unexpected issues, leading to significant overcharges. Scammers may fail to complete the project on time or on budget. They may also make excuses for delays or demand additional payments.
Red Flags: Frequent change orders and cost escalation without clear explanations or documentation.
Protection: Include a clause in your contract outlining how change orders and additional costs will be managed.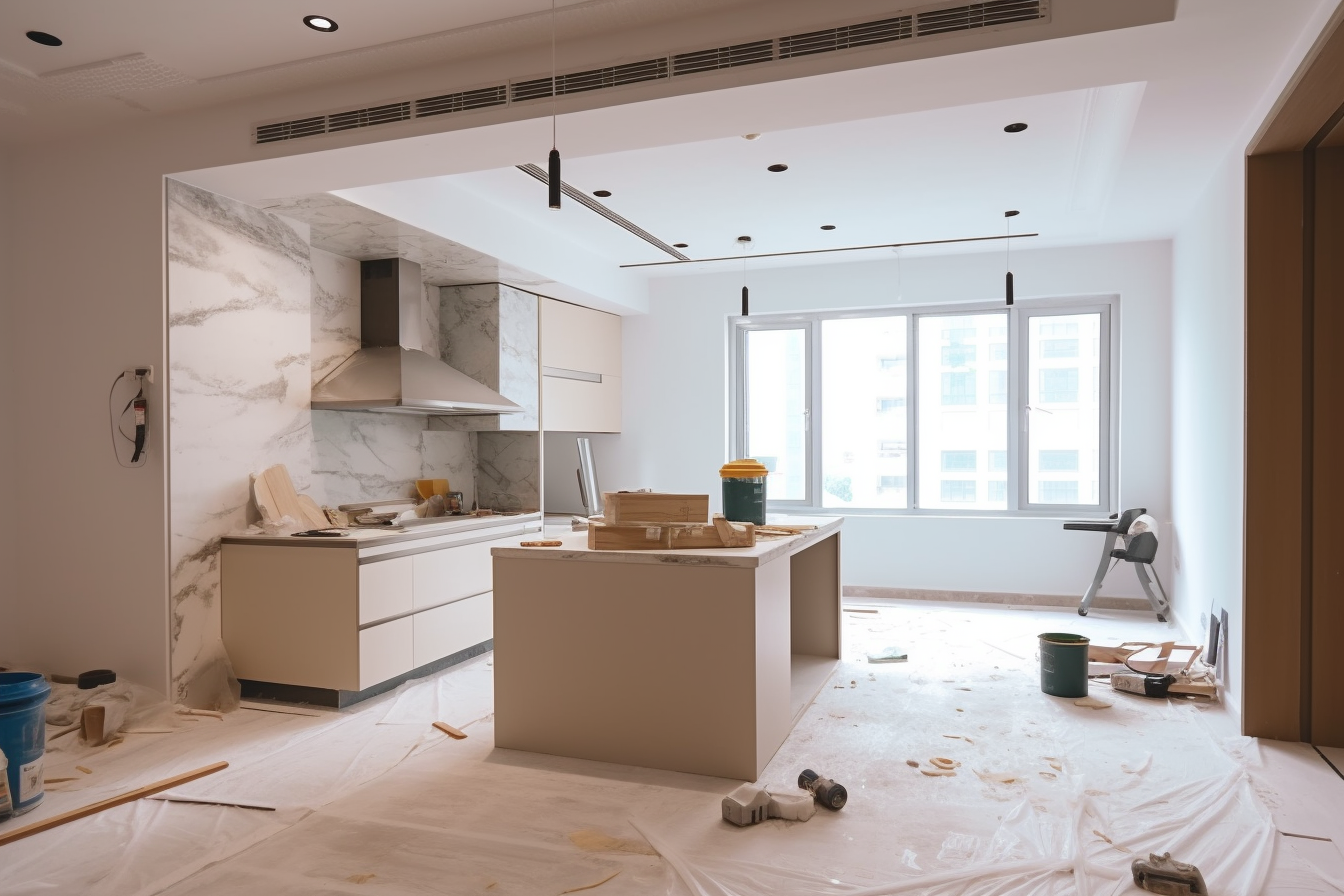 What you can do to safeguard yourself against home renovation scams
To safeguard yourself against home renovation scams, consider these proactive measures:
Thorough Research: Before selecting a contractor, gather quotes from multiple companies and verify their references. It's also wise to check the contractor's registration status with the Building and Construction Authority (BCA).
Comprehensive Documentation: Ensure the presence of a detailed written contract with the contractor, encompassing the project's scope, timeline, and cost. This contract should additionally outline a payment schedule and a dispute resolution process.
Deposit Caution: Exercise caution when it comes to large upfront deposits. A general guideline is to limit upfront payments to no more than 10% of the project's total cost.
Regular Inspection: Diligently inspect the ongoing work and promptly communicate any identified issues.
Payment upon Completion: Refrain from making the final payment to the contractor until the project reaches completion and you are entirely content with the work's quality and completeness.
The issue of home renovation scams in Singapore is indeed a cause for concern. However, armed with awareness and diligence, homeowners can shield themselves from potential fraud. The key steps to remember are to conduct extensive research, opt for well-established and trustworthy contractors, secure a comprehensive written contract, and maintain vigilance throughout every stage of the renovation project. By staying informed and exercising caution, you can not only protect your investment but also realize the dream of your ideal home.
KWYM Interior Designs holds a CaseTrust accreditation, showcasing our unwavering commitment to equitable business practices and open communication in our dealings with clients. This endorsement instills trust in our integrity and our unwavering commitment to maintaining elevated standards.
At KWYM, we approach every project with boundless enthusiasm and an open mind, fully recognizing that no two projects are alike. We understand that each client brings their distinct visions and aspirations to the table, and our commitment is to collaborate closely with you to transform YOUR dreams into reality.
With over a decade of expertise in the industry, we have finely honed our craft to fashion spaces that authentically mirror your unique style and personality. Our dedicated team of skilled designers and craftsmen will work in harmony with you to deeply comprehend your vision and breathe life into it. What truly distinguishes us is the presence of our in-house carpentry workshop, which empowers us with unparalleled quality control capabilities. This also allows us to offer tailor-made furniture and fittings that seamlessly integrate with your space. As a result, each and every detail is meticulously crafted to perfection, culminating in a design that exudes both coherence and elegance. Your dream space awaits, and we are here to bring it to life.