We are delighted to be featured in Singapore Finest's list of the best carpenters in Singapore.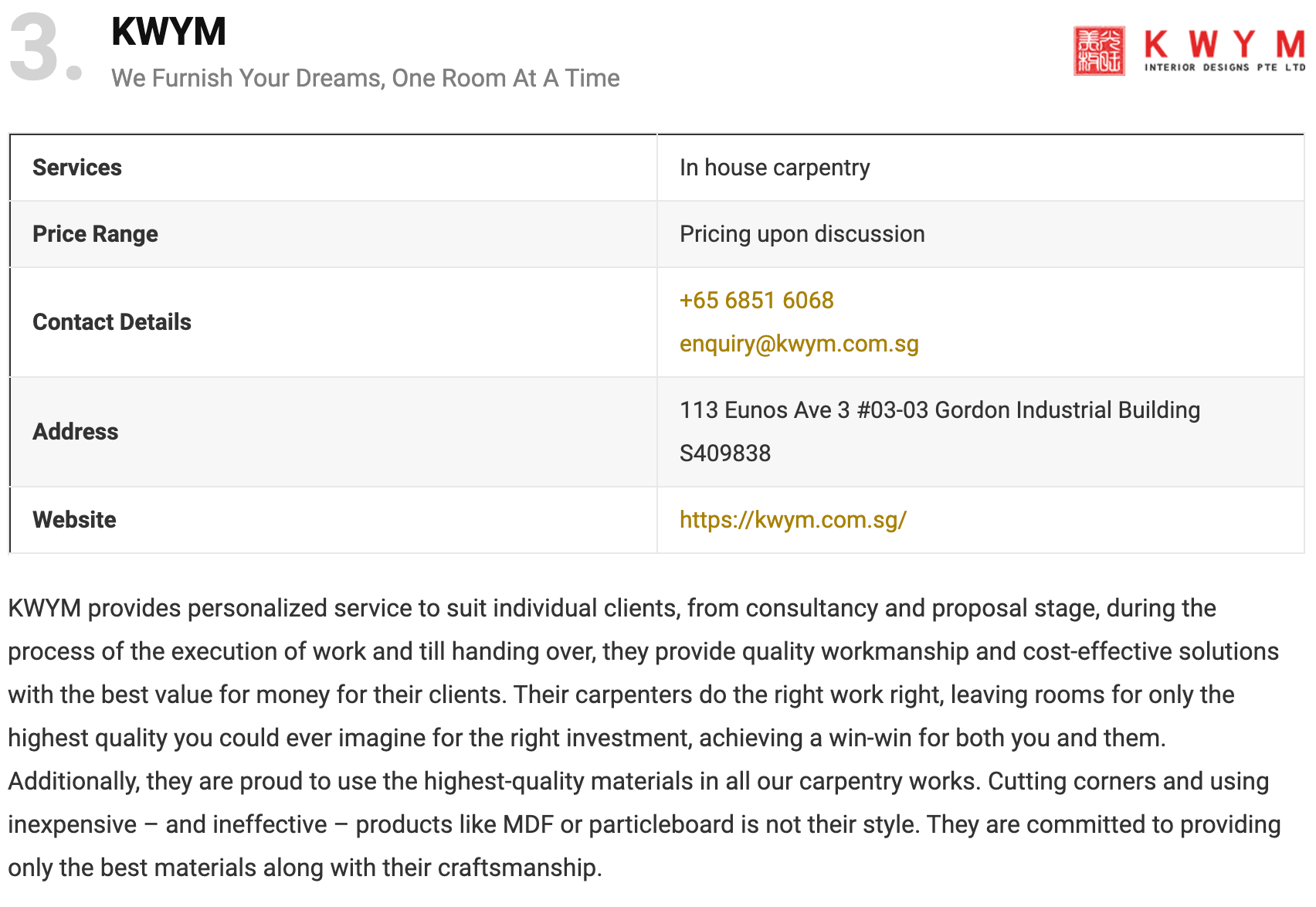 "KWYM provides personalized service to suit individual clients, from consultancy and proposal stage, during the process of the execution of work and till handing over, they provide quality workmanship and cost-effective solutions with the best value for money for their clients. Their carpenters do the right work right, leaving rooms for only the highest quality you could ever imagine for the right investment, achieving a win-win for both you and them. Additionally, they are proud to use the highest-quality materials in all our carpentry works. Cutting corners and using inexpensive – and ineffective – products like MDF or particleboard is not their style. They are committed to providing only the best materials along with their craftsmanship."
Whether your project is a tranquil residential haven or a bustling commercial space, our team is well-equipped with the expertise and adaptability to handle projects of varying sizes. We ensure exceptional results that align with your time and budget constraints.
From the initial spark of inspiration to the final brushstroke of execution, we remain unwavering in our commitment to not only make your design journey hassle-free but also delightful.
Choose KWYM Interior Designs to embark on a transformational journey that goes beyond your wildest imaginings, leaving a lasting impression. We invite you to contact us today to initiate a conversation about your project. With our creative flair and extensive experience, let us redefine your living or working space into something truly extraordinary.
Your vision serves as our inspiration, and together, we will craft spaces that inspire and invigorate.
When it comes to selecting an interior designer in Singapore, KWYM Interior Designs offers compelling reasons and advantages that set us apart. Here are the key factors that make us a reputable choice:
Extensive Experience
With a history dating back to 2009, KWYM Interior Designs has accumulated over a decade of experience in the renovation industry. We've successfully completed thousands of projects in both residential and commercial sectors, equipping us with the knowledge and insights needed to navigate the intricacies of renovation projects.
Client-Centric Approach
We understand that each renovation project is unique, and driven by the distinct dreams and aspirations of our clients. KWYM Interior Designs approaches each project with enthusiasm and a steadfast commitment to bringing our clients' visions to life. This personalized approach ensures that renovation goals remain at the forefront throughout the entire process.
Certifications and Accreditations
CaseTrust Accreditation
KWYM Interior Designs is a CaseTrust-accredited renovations company, demonstrating our dedication to fair trading and transparency in our interactions with clients.
BCA Approval
We hold BCA (Building and Construction Authority) approval as a contractor for Interior Decoration and Finishing Works, with an L1 Grading, underscoring our competence and adherence to industry standards.
HDB License
Our HDB (Housing & Development Board) license as a renovation contractor attests to our capability to handle projects related to public housing in Singapore.
BizSafe Level 3
We have achieved a BIZsafe Level 3 award, indicating our commitment to workplace safety and risk management.
General Builder License
KWYM Interior Designs has been awarded a General Builder Class 2 license, allowing us to undertake various types of construction work. This diversification of capabilities demonstrates our commitment to delivering a wide range of construction services.
Opting for a direct contractor like KWYM Interior Designs provides several advantages, including streamlined communication and cost efficiency. Our in-house workshop and direct workshop rates offer the opportunity to realize your renovation vision with precision and within your budget. Our personalized approach, specialized licensing, impeccable reputation, and commitment to your timeline and budget make us a top choice for transforming your space to match your exact desires and requirements.